jeffwebster.com.au


---
The latest edition of Jeff Webster's guide to buying and setting up your boat for fishing is a great read. Catch more fish with a better set-up boat! Learn how to fit rod holders, rod racks, outriggers, a berley bucket, live bait tank, and more.This 132 page mag is available at leading newsagents and online.

Experienced anglers may know how to rig up their boats for fishing, but if you're not quite sure where to put that rod holder, how to set up your outriggers, or what size live bait tank you might need, then you'll want to grab a copy of this first-rate magazine.

Inside the magazine you'll find a heap of useful information, starting with a series on buying a new boat, engine and trailer. There's a feature comparing 2-stroke and 4-stroke outboards, how to make the most of your cockpit fishing space, and another which covers what to look for when buying a fishing cuddy cabin in the popular 5.2 - 5.8 m size range. Does the perfect fishing cuddy cab exist? This chapter looks at boat size, cabin vs cockpit size, cockpit design, boat handling, ride, performance, and more.

The magazine then moves on to a series of articles on how to set up your boat for fishing bay, coastal and offshore waters. There are chapters (illustrated with a dozen or more photos) covering tackle storage, rod holders and racks, berley buckets, outrigger fishing, live bait and fish tanks, bait cutting boards, and more.

Electronics gear has not been forgotten either - with a stand-alone chapter on depth sounders (with information on digital sounders and the new "CHIRP" technology models) and another covering GPS chart plotters, marine radios and safety gear.

Rounding out the publication is a 25 page guide to some of the best bay and coastal fishing boats on the market today. In this section you'll find an enormous variety of craft - from 4.1 m light weight car toppers through to 9.0 m offshore sport fishing craft.

Whether you're interested in buying a new boat, or looking for set up ideas for your current rig, you'll find Fitting Out For Bay & Coastal Fishing to be a mine of information and DIY tips and techniques. It's the sort of mag you'll want to thumb through time and time again - one that is worth a permanent place on your book shelf.

Fitting Out For Bay & Coastal Fishing is no longer available in new or unmarked "mint" condition. The only copies left are newsagent returns or "seconds". These magazines are complete, but they may have price stickers, scuff marks, creases, and texta marks on the covers, etc. Inside, the mags are whole and in good condition. To order one of these magazines, please send a cheque or money order for AUD $11.95 (includes $2.00 for postage) payable to Jeff Webster, PO Box 344, Labrador QLD 4215.

NEED YOUR MAG ASAP? PAY BY CREDIT CARD & ORDER ONLINE.
Payments can also be made instantly by Visa or MasterCard using Paypal. Click on the link below to Buy It Now - or add this title to your Cart (above left) to continue browsing. For more details phone (07) 5594-0898.




(All cheques and money orders must be in Australian dollars. The above price is for mail orders within Australia only. To order a copy of this magazine from outside Australia, please click on the "Overseas Orders" icon on the top right hand side of this page. The price of the magazine is the same, but for an additional $16.50 to cover the extra postage.)
---
PUBLICATIONS
PUBLICATIONS
Secondhand
Boat Workshop

Secondhand
Boat Secrets
Fish & Family
Boat Guide
Fitting Out For
Bay & Coastal Fishing
Fitting Out For
Lake & River Fishing
FITTING OUT FOR BAY

Contents
Chapt. 1 Buying A New Boat
Chapt. 2 The Fishing Layout
Chapt. 3 Choosing An Engine
Chapt. 4 4-Stroke & DFI Outboards
Chapt. 5 The Ultimate Fishing Cuddy
Chapt. 6 Which Depth Sounder?
Chapt. 7 GPS & Safety Gear
Chapt. 8 Tackle Storage
Chapt. 9 Rod Holders & Rod Racks
Chapt. 10 Berley Buckets
Chapt. 11 Outrigger Fishing
Chapt. 12 Keeping Live Bait
Chapt. 13 Bait Cutting Boards
Chapt. 14 Better Boat Trailers
Chapt. 15 Battery Basics
Chapt. 16 Good Gear & Equipment
Chapt. 17 Fitting Out For Fishing
BAY & COASTAL BOAT GUIDE
25 page bay, coastal and offshore
boat guide - 4.0 m tinnies through to
9.0 m offshore rigs. Don't miss this
if you're looking to buy a new boat!


& COASTAL FISHING

Secondhand
Trailerboats

$13.95 Incl. Post
Secondhand
Fishing Boats
TRAILERBOAT
BUYER'S GUIDE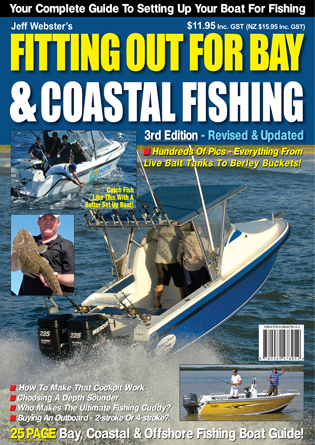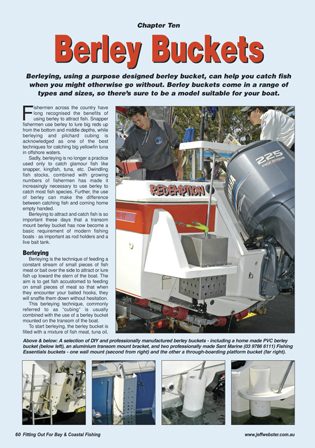 Sorry, This Title Has Sold Out. Please Do Not Order Copies Of This Magazine.
SOLD OUT. PLEASE DO NOT ORDER