jeffwebster.com.au


---
Buying a new trailerboat? Then grab yourself a copy of Jeff Webster's Trailerboat Buyer's Guide. This 148 page, full colour, square back magazine is a comprehensive guide and directory to purchasing a new power trailerboat - be it a small alloy tinnie, a weekend cruiser, or an offshore sportfisher.

Trailerboat Buyer's Guide contains chapters covering most aspects of buying a new boat - from choosing a boat, engine and trailer, through to fitting out your new boat with the latest safety gear and marine electronics.

Two chapters have been devoted to the engine selection process. The Engine Room covers 2-stroke outboards, inboards, diesels and sterndrives, while New Outboards - Lean & Green reviews the latest clean running outboard engine technologies - and the benefits they can provide to the new boat buyer. Should you buy an old tech 2-stroke outboard, or invest in an engine with the latest in low emissions technologies?

To help with choosing the right type of boat Trailerboat Buyer's Guide has a series of articles that examine the key features and attributes of the most popular types of powerboats - including aluminium tinnies and open boats, bay runabouts, sports boats and bowriders, family cuddy cabins and cruisers, coastal fishing rigs, and offshore sport fishing boats.

Concluding the magazine is a 52 page directory style guide to the best trailerboats on the market from Australia's leading manufacturers and distributors. The review pages contain three photos, a summary of each manufacturer's boat range, along with the manufacturer's contact details - so you can quickly follow up on any boat that grabs your interest, or flick between pages to compare brands and models. With hundreds of boats displayed, you're sure to find the perfect new boat.

Whether you're serious about shopping for a new boat, or just curious about what is currently available in new power trailerboats, Jeff Webster's Trailerboat Buyer's Guide is a worthwhile purchase. Newcomer or experienced boatowner, you'll find plenty of interesting and informative reading in this new publication.

Trailerboat Buyer's Guide is no longer available in new or unmarked "mint" condition. The only copies left are newsagent returns or "seconds". These magazines are complete, but they may have price stickers, scuff marks, creases, and texta marks on the covers, etc. Inside, the mags are whole and in good condition. To order one of these magazines, please send a cheque or money order for AUD $14.95 (includes $3.00 for postage) payable to Jeff Webster, PO Box 344, Labrador QLD 4215.

NEED YOUR MAG ASAP? PAY BY CREDIT CARD & ORDER ONLINE.
Payments can also be made instantly by Visa or MasterCard using Paypal. Click on the link below to Buy It Now - or add this title to your Cart (above left) to continue browsing. For more information, phone (07) 5594-0898.




(All cheques and money orders must be in Australian dollars. The above price is for mail orders within Australia only. If you would like to order a copy of this magazine from outside Australia, please click on the Overseas Orders icon on the top right hand side of this page. The price of the magazine is the same, but for an additional $22.00 to cover the extra postage.)


---
PUBLICATIONS
PUBLICATIONS
Contents
Chapt. 1 Buying A New Boat
Chapt. 2 Tinnies & Open Boats
Chapt. 3 Sports Boats & Runabouts
Chapt. 4 Family Cuddies & Cruisers
Chapt. 5 Coastal Fishing Rigs
Chapt. 6 Offshore Sport Fishing Boats
Chapt. 7 The Engine Room
Chapt. 8 New Outboards, Lean & Green
Chapt. 9 The Modern Boat Trailer
Chapt. 10 Shopping For A Sounder
Chapt. 11 GPS Navigators
Chapt. 12 Safety Gear - What You Need
Chapt. 13 Good Gear & Equipment
THE TRAILERBOAT BUYER'S GUIDE
A review of the best new power trailerboats
on the market from Australia's leading
manufacturers & distributors. 52 pages,
100s of boats - from tinnies through to
sports bowriders, powered cats, plate
alloy and fibreglass sport fishing boats.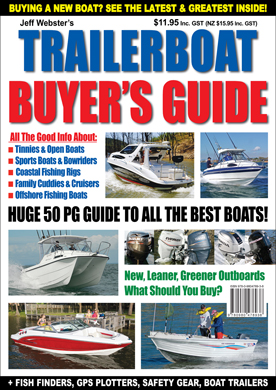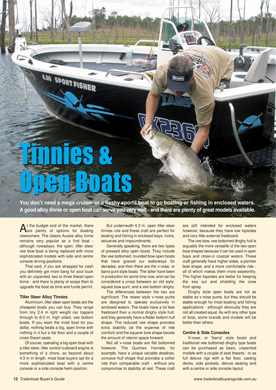 $14.95 Incl. Post

Secondhand
Trailerboats

Secondhand
Boat Workshop

Secondhand
Boat Secrets
Secondhand
Fishing Boats
Fitting Out For
Bay & Coastal Fishing
Fitting Out For
Lake & River Fishing
Fish & Family
Boat Guide
NEW
RELEASE!

TRAILERBOAT BUYER'S GUIDE
TRAILERBOAT
BUYER'S GUIDE